Press Release: Auntie Anne's Pretzel Perks
Auntie Anne's® Launches Mobile Loyalty Program
Soft Pretzel Icon Announces Rollout of 'My Pretzel Perks' Mobile Loyalty App, Created by Qubop.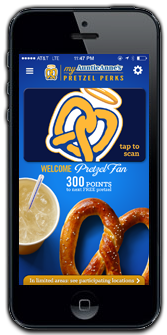 LANCASTER, PA, AUGUST 7, 2014 - Auntie Anne's, the world's largest hand-rolled soft pretzel franchise, recently announced the launch of a robust loyalty program. Currently one of the few primarily mall-based QSR brands in the loyalty space, Auntie Anne's partnered with MICROS Systems, Inc. (NASDAQ: MCRS) and mobile app development company Qubop, Inc. (http://qubop.com) to introduce 'My Pretzel Perks' mobile loyalty app.
Auntie Anne's new app is currently available in 80 percent of its more than 1,000 U.S. store locations, with plans to complete the remaining participating stores' installations by the end of August. This new mobile loyalty app works as a rewards system, allocating points for each visit and every dollar spent. There are three tier levels that can be attained based on the number of points a guest earns: Pretzel Fan, Pretzel Lover and Pretzel Perfect. Rewards are awarded to guests with every 300 points that are earned, as well as when each individual tier is achieved, and range from special discounts and offers, to free products, to souvenir cups and t-shirts. In addition, the app contains helpful features including a listing of menu items and a store locator.
"At Auntie Anne's, we're always looking for ways to improve the guest experience," said Heather Neary, Auntie Anne's Chief Marketing Officer. "Our new loyalty program was carefully developed specifically to cater to our loyal guests – rewarding them for their patronage and encouraging repeat visits. Our goal is to provide value to our guests any way that we can."
The launch of this mobile loyalty app also enables Auntie Anne's to evolve beyond the transaction at its counters. The new app will allow the company to better track customer redemption of coupons, make unique offers based on customer behavior, and help achieve increased sales through greater customer frequency.
The 'My Pretzel Perks' mobile loyalty app is currently available for download free of charge on iOS and Android devices via the App Store or Google Play Store. Upon downloading, users will need to sign up for the program. This will activate a new account and send the first reward to the app within 24 hours – a coupon for a free Pretzel item.
About Auntie Anne's
At its 1,600 locations around the world, Auntie Anne's mixes, twists and bakes pretzels from scratch all day long in full view of guests. Auntie Anne's can be found in malls and outlet centers, as well as in non-traditional spaces including universities, airports, travel plazas, amusement parks, and military bases. For more information, visit Auntie Anne's Facebook page, Twitter or Instagram account. Product imagery is available upon request.
About MICROS Systems, Inc.
MICROS Systems, Inc. provides leading enterprise-wide applications, services and hardware for the hospitality and retail industries. Serving an extensive portfolio of clients worldwide, MICROS solutions are utilized in hotels, casinos, table and quick service restaurants, retail, leisure and entertainment, fuel and convenience, cruise, and travel operations in more than 180 countries, and on all seven continents. MICROS combines its industry knowledge and expertise to provide cloud-based, mobile and on premise solutions that allow its clients to streamline operations and successfully engage their customers.
MICROS applications include point of sale, property management, central systems, business intelligence, eCommerce, loyalty, CRM, loss prevention, distributed order management, labor management, inventory management, and merchandise planning solutions. MICROS services include hosting and SaaS, platform implementation and integration, strategic business consulting, interactive marketing, design services including creative and user experience, and managed services. MICROS stock is traded through NASDAQ under the symbol MCRS.
For more information on MICROS and its advanced information technology solutions for the hospitality and retail industries, please contact Louise Casamento, Vice President of Marketing at (443) 285-8144 or (866) 287-4736. You can also visit the MICROS website at www.micros.com or send an email to info@micros.com. Follow MICROS on Facebook, LinkedIn, YouTube, and the MICROS Blog.
About Qubop, Inc.
Based in San Francisco, California, Qubop specializes in mobile UI/UX, product design, and application development for iOS, Android, Windows Phone and BlackBerry. Qubop helps clients create mobile strategies and analyze customer behavior, and gives them the apps to support their business goals. Current clients include major retail brands, interactive agencies, healthcare firms, Fortune 500 companies and early-stage startups. For more information, visit http://www.qubop.com or contact Qubop communications director Jamie Morrow, jamie@qubop.com, (805) 451-5239.