We specialize in mobile UI/UX, product design, and native application development for iOS, Android, and wearables. We help our clients discover how to drive and focus user behavior, and provide them the apps to support their business goals.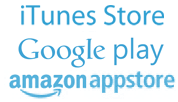 Qubop has worked in mobile for over 10 years, and our team has deep knowledge of the industry and platform landscape. Our apps have been featured by Apple in the iTunes stores in the US, Canada and Japan, and by Amazon Appstore for Android.
Our clients have included major retail brands, interactive agencies, healthcare firms, Fortune 500 companies and early-stage startups.