Salesforce.com's annual Dreamforce conference in San Francisco next week is the largest cloud-computing event of the year, and Chia and Evan have a full slate of presentations and demos to share.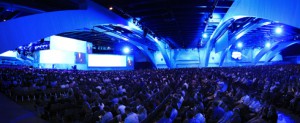 This Sunday at 6 p.m., Chia will join five other women technology leaders in Silicon Valley in a panel discussion at "Growing Your Career: FemmeForce and Girly Geeks," the conference's second annual women's networking event. The other panelists are: Sandra Kurtzigs, CEO and founder of Kenandy; Sheila Jordan, SVP IT- Communication and Collaboration at Cisco; Susan Etlinger, Industry Analyst at Altimeter Group; Amity Millhiser, Partner, Price Waterhouse Cooper; and Lynn Vojvodich, CMO, Salesforce.com. The event at the Westin St. Francis's Grand Ballroom is currently sold-out, but last-minute seats may open up — jump on them if they do.
Monday morning at 9:15 a.m., Evan and Chia team up to present "Mobile Magic: How to Create Outstanding Enterprise Apps with Salesforce" at Moscone Center West's Mobile Theater. They'll discuss building iPhone apps integrated with Salesforce APIs and technologies, dive into iOS code examples and demonstrate Secure Sales Organization Manager, an app Qubop designed and developed for Sunnyvale-based Good Technology. The iPad app seamlessly combines multiple Salesforce technologies to offer sales management, document workflow and case handling across an entire company. You can also see the app at Qubop's booth at Moscone West, DZ#30, Good's booths at Moscone West #301 and Moscone North #1918 or at the Product Showcase Campground at Moscone North. While there, enter your name in Qubop and Good's drawing and take a stab at winning an iPad Air. Campground demos take place Monday at noon and 4 p.m., both Tuesday and Wednesday at 2 p.m., and Thursday at 9 a.m.
On Tuesday, Chia and Evan will join Salesforce's Alex Toussaint to present a demo at "Internet of Things: Connect Your Products, Apps & Customers With Salesforce." They'll show Qubop's SmartPower app, which displays a real-time data stream of power usage in homes equipped with smart meters. That's from 2 p.m. to 3 p.m. at  Moscone Center West, 3001/3003.
Qubop will also be demonstrating LeadCatch, which we developed with InCadence for FSE Energy of Covington, La. The custom mobile app app, which was featured at Salesforce's Elevate Mobile Platform in Houston on Aug. 22, offers company representatives real-time monitoring and followup for sales leads and opportunities. You can see LeadCatch at Qubop's booth or at the Product Showcase Campground.