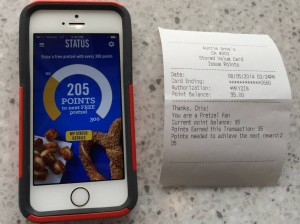 Qubob is proud to announce the rollout this week of the "My Pretzel Perks" mobile loyalty app we developed for beloved pretzel chain Auntie Anne's.
It all began 18 months ago when Qubop partnered with MICROS Systems, Inc. to deliver the app — and now the app can be used in hundreds of Auntie Anne's stores across the country.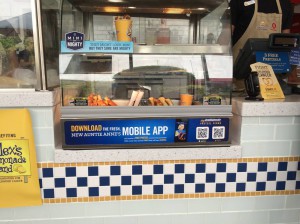 The app works as a rewards system, delivering points for each visit and every dollar spent at Auntie Anne's. But it also allows the company to strengthen its relationships with its customers beyond the counter. Based on what customers buy, the app can make unique offers that suit their tastes.
Also, we just have to geek out for a moment: Notice the custom receipt message printing and the fact that the number of points printed on the receipt matches the numbers in the app, in realtime. This immediate updating in-app is pretty rare. In fact, as far as we know, we may actually be the only ones doing this.
Check out the official Auntie Anne's press release here.
The "My Pretzel Perks" mobile loyalty app is currently available for download at both the App Store and Google Play Store. Just signing up for an account gets you your first reward — a free pretzel.