Nook Color & Tablet Apps
Neptune's Blox
Now with 50 levels! This game will appeal to fans of Angry Birds, Cut the Rope, and other physics games, as well as puzzle games like Bejeweled.
The goal of Neptune's Blox is to place the trident stone on Neptune's altar. Tap each block to remove it, but be careful!
Bubble Scoop
Bubble Scoop is a fun and cheerful variation on the classic match-3 puzzle games. Shoot ice cream from the truck, and match scoops of the same color to remove them from the board.
Featuring colorful animation, particle effects, and 90 different levels of increasing difficulty, Bubble Scoop starts out easy, but will challenge players of all ages.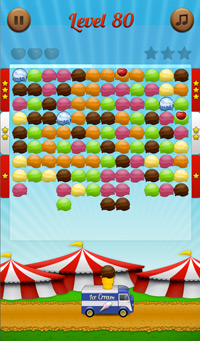 Vegas Video Poker

Do you love playing video poker? Do you miss the sights and sounds of Las Vegas? If so, Vegas Video Poker is for you. It features six different poker variations in a single app as well as automatic credit refills, so you can play for free, forever.
To-Do List Deluxe
This app is a beautiful and easy to use utility for keeping track of your daily tasks or reminders.
Featuring 12 different attractive themes, including Parchment, Beach, Chalkboard, Victorian, Autumn and Cupcake. We think you'll agree it's the best-looking to-do list app available!
Core Damage
Core Damage is an addictive, tilt-controlled arcade game. Tilt your tablet to rotate the paddle, and bounce the ball to clear the nuclear waste from each reactor screen and advance to the next level.
Watch out for gravity: if you're not careful, it will draw the ball into the reactor core, causing total meltdown. The game starts out easy, but remains challenging as your skill level increases.